Commonly Asked Questions for Patients Who Are in Retainers
Congratulations on completing your orthodontic treatment! You did it! You achieved a beautiful healthy smile! We've included a couple of questions that patient who transition into retainers often ask. If you have any further questions, kindly contact one of our friendly staff.
We generally provide Fixed and Removable Orthodontic Retainers as part of your orthodontic treatment.
I've got my retainers… What do I do with them?
The biggest factor to stress with your retainers is, when your retainers are tight, this indicates your teeth have moved and your retainers are moving your teeth back to their original straight position.
In the first two months, we typically recommend you wear your retainers full time, except eating, drinking and brushing. The only exception to this rule is drinking plain cold water with the retainers.
We can not stress enough to ONLY place your retainers in your mouth or in their retainer case. It happens all to often that retainers are accidentally thrown out as they are wrapped in tissues or napkins.
My retainer broke.. What should I do?
In the instance you lose your retainers, it's important to return to our practice as soon as possible to have impressions taken. The longer the time between not wearing your retainers and new impressions, is time your teeth can shift out of alignment.
If your retainer cracks/breaks/snaps in half, and it is comfortable to do so, keep wearing your retainer at night.
Kindly contact our friendly staff if you have any further questions, alternatively you can contact our staff over Facebook Messenger, where you can contact our staff outside of regular business hours.
How do I keep my retainers clean?
Firstly it's important to not eat or drink with your retainers, and secondly a liquid hand soap/dish washing liquid or whitening mouthwash with a soft toothbrush is the best method. Avoid using hot water to clean your retainers as it can disfigure/mould them out of shape.
What are Fixed Retainers (Wires glued behind my teeth)
Fixed Retainers are permanent wires bonded or "glued" on the inside surface of the front teeth and therefore not visible. This is one of the best ways to prevent your teeth shifting as they are permanently attached. They are comfortable and if are kept clean with normal brushing and flossing as well as visiting your Dentist for regular cleans, they are not likely to cause tooth or gum disease.  During your follow-up retainer checks, we make sure that your fixed retainers are intact.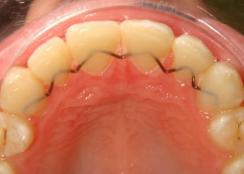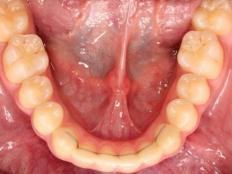 What are Removable Retainers (Clear removable retainers)
On top of the fixed retainer, we also provide clear removable retainers that fits over the entire arch of the teeth. They are easy to wear and are nearly invisible! It is important that these retainers are worn as instructed. They must be worn frequently enough and for long enough to keep the retainers fit comfortably. If they are left out of the mouth for too long, teeth will sometimes start to move and if this occurs, some discomfort or tightness may be experienced the next time the retainer is worn. In this case, retainers must be we worn more often and should be checked for fit in our office.